Ingredients
Through Bio-Resonance scanning (learn more here), we are able to identify the specific frequencies of a wide spectrum of infections, diseases, toxins, parasites, and many other common health irritants. Read More Once identified, we are able to formulate our herbal extracts to match these frequencies in a way that will provide the body with the bio-information it needs to facilitate its own energetic antimicrobial, detoxification, & other control systems. As this kind of progress grows, the symptoms fall away. So essentially, it is not only a formula of herbs, but also of frequencies that work hand-in-hand with God's design of the human body, instead of "doing for the body what the body should do for itself."
References
Tangerine rind (chen-pi)
Red clover (Trifolium pratense)
Silphium laciniatum (entire plant)
Pinellia (Ban Xia)
Experience The Difference
Expertly Innovative Formulas
Each product is the result of years of clinical work striving to help real patients who had gotten minimal results with the big-name, heavily marketed, nutritional supplements. This real-life experience and the use of primarily novel and rare fresh herbs gives these remedies an extremely rare advantage.
Handcrafted At Every Step
The anchor herbs in our remedies are hand-harvested locally by our team of botanical connoisseurs. From there, they are washed, extracted, filtered, formulated, bottled, and shipped all by hand in order to best protect the healing potencies of the formulas.
Unrivaled Freshness And Potency
While most supplemental companies sell remedies made solely from dried-out herbs, only the freshest, most robust wildcrafted herbs are selected for the anchor ingredients in our earth-to-bottle remedies. Minutes after harvesting, the herbs are then taken through a 30-day extraction process, creating some of the highest-frequency extracts possible.
Clinically Trusted
Our frequency-matched botanicals have been utilized by some of the most successful clinics in the world for Lyme disease & more since 1998.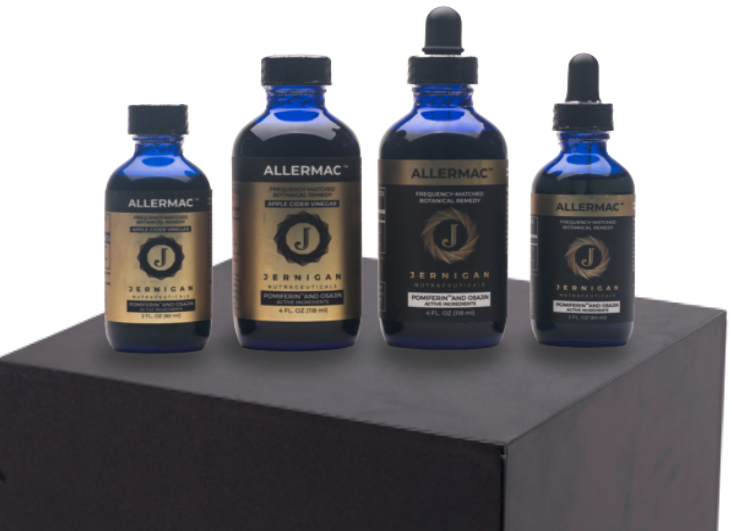 Really helps with allergies
This has made a big difference for me and my husband with spring/summer pollen allergy symptoms.
No more allergies!!!
After about 2-3 weeks on Allermac, I didn't suffer from the misery of blowing my nose and having to clear my throat and feeling so stuffed up. I felt more normal, even though we live in an older house and I have a flower garden and blossoming trees in my yard!
I have no idea it's only use one drop a day like a homeopathic I haven't really noticed anything good or bad.
Hi Kelly,
Thanks for investing in us . I want to clarify the Allermac situation. We always use 2 droppers (40 drops) 3 times a day to help the body deal with mild, fungus, toxins and extra mucous. When I am having a sneezing fit, I take 2 droppers right then and, for me, it stops the intense allergic reaction.
When one has Allergies many times one needs to heal and seal the gut. I have a free ebook in this topic to let you understand how I think in regards to that topic.
https://www.jnutra.com/products/heal-seal-the-gut-e-book
Does this help?
Kind Regards,

Dr Sara J
Reaction
My throat hurt; and my nose dripped over the four days I took it. I went back to my allergy medicine. I was miserable.
Hi Lucie,
I'm so sorry about your experience with Allermac! From my experience of working with many people over the last 25 years, it seems your sinus problem may be originating from a deeper root cause and may require a more involved and dynamic solution. I suspect it may be more of a gut issue, as the throat, sinuses, and digestive tract are all connected. If you have not considered this, I offer a free ebook and a bundle to help Heal and Seal the Gut. Parasites can also be a major culprit for allergy symptoms and may be worth addressing.
You can find the ebook here: https://bit.ly/3d52Cs5
We write on allergies in much more depth here: https://bit.ly/3vXmqWN
This is our favorite for helping the body with parasites: https://bit.ly/3tY5nC2
Clove oil is another great tool because it has been shown to be effective in destroying parasite eggs. Another one to consider is ParaFree by Young Living oils, which is an advanced blend of some of the strongest essential oils studied for their cleansing abilities.
Thank you for your feedback and for considering a more well-rounded solution to help free your body from allergies once and for all. I hope this helps!
Dr. Sara Jernigan
These comments have not been approved by the FDA. This product is not intended to treat, diagnose, or address disease. All of the products in the Jernigan Nutraceutical product line work to enhance and support the restoration of the structure and function of the body's crystalline matrix. Always consult with your healthcare professional before beginning this or any other dietary supplement.
Frequently Asked Questions
How Many Drops Should I Take?
What's The Difference Between The Apple Cider Vinegar Base Remedies And The Ethanol Base Remedies? Which Is Best For Me?
What Is Ethanol?
Why Do You Use Apple Cider Vinegar?
Are Your Products Safe If I Have Celiac Disease/Gluten Intolerance?
How Much Is A Dropper?
How Long Will One 4oz Bottle Last Me?
What Is The Weird Substance In My Apple Cider Vinegar-Based Bottle?
My Doctor Gave Me A Dosage For An Apple Cider Vinegar-Based Remedy In Drops/Droppers. How Do I Do This Without A Dropper?
Why Dont The Remedies With The Apple Cider Vinegar Have A Dropper?
Are Your Products Vegan/Vegetarian?